Product Description
TeleGizmos - Standard Solar Cover for 10" SCT's on a German Equatorial Mount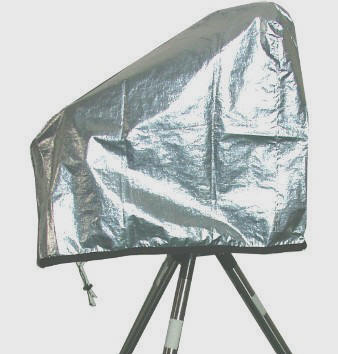 Designed to fit 10" Schmidt Cassegrain Telescopes on GEMs (with finderscope)


TeleGizmos Solar Telescope Cover is crafted from multi-layer, polyethylene aluminized material.


Waterproof, washable, highly reflective, puncture/tear resistant.


TeleGizmos Solar Telescope Cover keeps your scope cool during the day and dry at night


This cover has a top line length of 28", a major height of 36", a minor height of 25", and a width of 15".

The new TeleGizmos Solar Telescope Cover is made from multi-layer, polyethylene material with a fully aluminized surface. The multi-layered material consists of a polyethylene base film covered by a reinforcing fiber. From there, a pure coat of aluminum is then applied onto the fiber poly base. For ultimate durability, a clear polyethylene top coat is then applied to protect the aluminum and finalize the multi-layer construction. It all adds up to a lightweight telescope cover that will endure years of use... Even through washing!
Water proof, washable, highly reflective.
Stops condensation build-up on scopes left outside at night.
Greatly reduces temperature on scopes left outside in sunlight. The radiant heat reflection properties of TeleGizmos Cover is outstanding.
They can be securely fastened to your scope with the built-in draw string.
Double lap sewn seams for strength.
The TeleGizmos material is unaffected by high wind.
Material has extreme temperature tolerance; stays malleable in temps well below freezing and is unaffected by summer sun and heat.
Both you and your telescope will appreciate the heat reflective ability of this very efficient telescope cover. The material is as strong as several layers of tarp and was originally developed for NASA as an insulator for spacecraft. The Telegizmo telescope cover is ultra-strong and lightweight. Its construction is highly resistant to tears and punctures. Far superior to Mylar, and is one tough and durable telescope cover.
All TeleGizmos covers come with a one year material and craftsmanship warranty.
Specifications
| | |
| --- | --- |
| Name | TeleGizmos Solar Cover for 10" SCT's on a German Equatorial Mount |
| Manufacturer | TeleGizmos |
| Model | TGZ-TGG1 |
Reviews