Details
TeleGizmos 365 Series Cover for Tripods - Canvas Only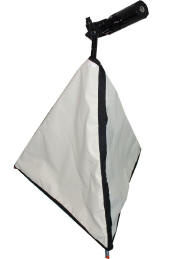 Telescope cover designed to protect your tripod. This TeleGizmos cover uses the same outer canvas material that all 365 Series covers are made of.

Does not include the radiant barrier liner

.


TeleGizmos - 365 Series Telescope Covers will withstand outdoor exposure 24 hours a day, 365 days a year!


TeleGizmos - 365 Series Telescope Covers feature an outer layer made of acrylic-coated woven polyester.


Made to fit over standard, stock tripods. If you wish to store your telescope with accessories attached, it is recommended you measure before you buy.

The Tele Gizmos 365 Series Telescope Cover is designed with one thing in mind... To meet the most demanding equipment coverage needs. This is a telescope cover that will withstand outdoor extremities 24 hours a day, 7 days a week and 365 days a year! What makes the Telegizmo telescope cover unique is the multi layered outer cover made of high count, acrylic coated woven polyester. This American made fabric offers superior resistance to mildew and stands up against decaying qualities of UV radiation. Add to that exceptional strength and abrasion resistance. Unlike most fabrics, this combination provides less than 1% shrinkage or stretch. That means your TeleGizmo 365 Series Telescope cover will continue to fit year after year after year.
Series 365 covers are warranted for one year from date of purchase including all labor and material. Continuous 24/7, 365 outside (full weather) exposure is covered in this warranty protection. If your cover fails due to either a manufacturing or material defect, TeleGizmos will repair or replace the cover during this warranty period. Proof of purchase required. This warranty is fully transferable. This warranty does not include coverage of normal wear and tear.
Additional Information
| | |
| --- | --- |
| Name | TeleGizmos - Tripod Cover 365 (Canvas Only) |
| Manufacturer | TeleGizmos |
| Model | T3TP |
| Manufacturer Part No | T3TP |