Product Description
DayStar Filters - Quark Chromosphere Filter (0.5Å - 0.3Å)
The new DayStar All-In-One combines aspects of the telecentric barlow, adapters, snouts and hydrogen alpha filter into one simple assembly. Designed specifically for f/4-f/9 refractors with a diagonal and eyepiece, the observer can use the DayStar Quark with the custom 4.2X telecentric barlow specifically designed for H-Alpha wavelengths and superior flatness with filter bandpass depending on the telescope being used. DayStar has also reduced weight, unnecessary components as well as power consumption to run on a small palm sized battery back. DayStar has also included baffles to increase contrast and AR coatings are optimized for 656mm wavelength.
*The QUARK assembly is a product of DayStar Instruments, using DayStar Filters' Fabry Perot etalon technology.
1.25" or 2.0" combo eyepiece snouts with safety indent slot directly into your diagonal

Standard 1.25 eyepiece drawtube output with optional 2" and SCT accessories available.

Brass compression ring to protect eyepiece. Uses USB power, 5v 1.5amp Includes 90-240VAC wall adapter with international plug adapters.

Tuning knob allows wing shifting +/- 0.5Å with detents at every 0.1Å LED indicator for power, warming, ready, fault 5 year warranty,

Optional 8-hour battery pack available. Integrated, fully baffled 2 element telecentric 4.2X barlow optimized for 656nm

Integrated 12mm blocking filter 21mm clear filter aperture

Best performance with F/4 - F/8 refractors

Full disk viewing possible on refractors up to ~450mm focal length refractors

No aperture limitations. May be used on larger refractors for higher magnification views

Ships in convenient Twist-Case for safe, dust-free storage.

Not suited for off-axis application.
All DayStar Hydrogen Å filters need to be used in conjunction with a lens cover and Energy Rejection Filter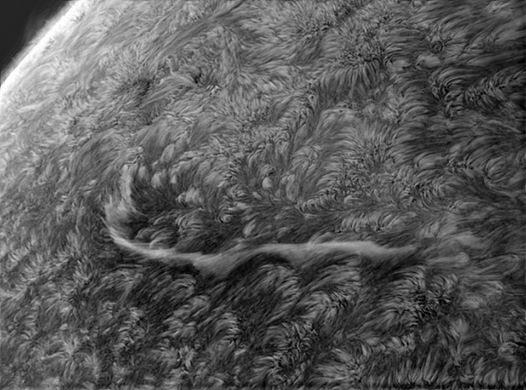 mw/mc
Specifications
| | |
| --- | --- |
| Name | DayStar Filters - Quark Chromosphere Filter |
| Manufacturer | DayStar Filters |
| Model | DAY-DSZ4C |
| UPC | 702730990728 |
Reviews
Review and collect 50 points.
I fantasize about having the opportunity to write a review such as the one posted above mine here concerning Quark and submitted by "ftretta@msn.com". I'm sure that when he/she causally mentions "I will have two 80mm triplets and a pair of Quarks for the same amount I have invested in my Lunt double stack ...." they have NO idea that the sum of money that is involved is more cash than I will see in nearly five months of gross income. It took me the better part of a entire year to save up enough to buy an iOptron Solar 60mm refractor package, and even then it was a "Factory Second" that had suffered some minor paint loss to it's OTA during shipping. That wee tiny scratch was far too much for the original customer but it finally brought direct, dedicated Solar observations down to Earth for this guy! Without trying to sound too pathetic, I am on SSI Disability since 2014 fighting a difficult, draining and at times depressing chronic and systemic illness that has not only managed to handicap me but to completely cobble my never-to-healthy income as well. I look up to you, ftretta@msn.com, and vicariously enjoy your views. Thank You for sharing your Top Shelf experience with Top Of The Line gear. I truly enjoyed every word of it! (Posted on 4/20/2019)
Review by:
ftretta@msn.com
Over the years I've had a Coronado 60SS, a Lunt 60DS (still have this one) and a Lunt 75SS. Two years ago I picked up a Daystar Quark at the Tucson show and here's what I see:

I first tried it in a Stellarvue 115, but with the built in 4.2X barlow it was difficult to use the system. So I went to a 480mm focal length 80mm triplet. That's the right scope for this filter, but even then you will be using 40mm and 32 mm eyepieces most of the time.

As originally purchased the Quark seemed somewhat lacking and so I sent it in to be checked. It came back quickly, and considerably tuned up. Daystar cares. To compare it to my Lunt 60 DS I coaxially mounted them next to one another so I could quickly look back and forth. In my estimation the Chromosphere Quark I now use provides equal, or superior, images to the Lunt double stack. And, because I am using an 80mm telescope as the base, it is a brighter image. The results are such that I have asked Farah to sell and ship me another 80mm triplet, a Daystar Quark, a UV filter for the front of the diagonal, and another 40mm Televue 1.25" eyepiece. I will likely sell off the double stacked Lunt.

I've wondered if the increased performance might be due to the better scope on which I've mounted the Quark, it being a well corrected triplet while the Lunt is using a singlet of unknown correction. My Lunt is a 60/60 and noticeably brighter than a 60/50, but the first thing that jumps out at you when comparing the two is the increased brightness of the Quark setup. As well, the Lunt tends to have "sweet spots" where detail is sharper than in other places. The Quark seems to be more homogenous. Interestingly, some of the darker detail in the Quark sometimes appears perhaps a bit washed out, a result, I'm sure, of the brightness of the image. I'm going to experiment with filters and aperture masks this week to see if I can increase contrast when warranted.

Concluding, at $995 for the Quark and about $700 for an 80mm triplet, it is hard to view this arrangement as anything but a very desirable arrangement, not just for starters, but for experienced solar observers. I will have two 80mm triplets and a pair of Quarks for the same amount I have invested in my Lunt double stack and believe performance will be improved. Given a choice between Chromosphere and Prominence it's really a choice of what you enjoy viewing more. I've found the Chromosphere model to yield great prominence views, though I expect the Prominence model will provide brighter, more extended views. (Posted on 2/20/2016)
Articles
FAQ / Downloads