Product Description
Losmandy G-8 Equatorial Mount with Gemini Servo System
New!

Gemini 2
Equatorial Positioning System


The latest Gemini has been completely redesigned with a more powerful CPU, more memory and an interactive color touch screen for versatility and ease of use.
FEATURES

Full Color Graphic Touch Screen clearly displays all functions
Classic four-button pattern for guiding, centering, moving and slewing on both the touch screen and a tactile membrane on the rear -->
Support for the original four-button controller
For Losmandy GM8, G-11 & Titan mounts
Custom mount support using the Programmable Gear Rate function
8°/sec Slew Rate (GM8)
0.5 arcsec positional accuracy
DC Servos for improved accuracy with higher torque than stepper motors
GPS-compatible with optional receiver
Stand-alone system. No PC required!
Ethernet 10/100 with full IP function permits operation from anywhere using a browser, ASCOM, or app over the web or serial port
Non-Volatile Memory and Real-Time Clock
English, French & German displays
Over 40,000 objects
Two USB ports; Virtual COM to PC, ASCOM or planetarium program
Port E - future high-res encoders
Port F - multi-function serial; A/D I/O
Firmware upgrade via internet
PEC correction
Auto-Guide port (TTL)
Dual 12~18V DC input/output (3.0A)

INTERACTIVE DEMO

Click here for
Interactive QuickTime Movie
(10MB)

Requires Apple's QuickTime Player

for full interactivity


Download it here

Specifications subject to change
GM 8 Equatorial Mount Specifications: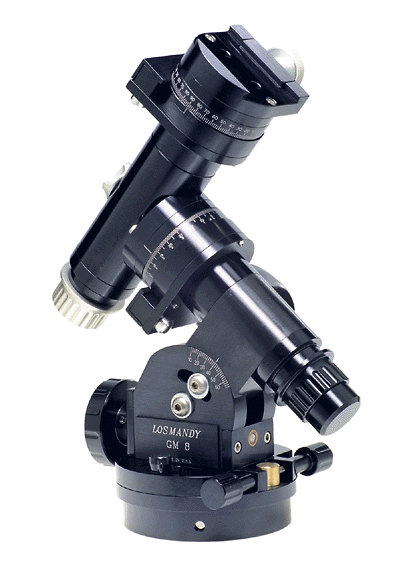 SPECIFICATION: R.A. / DEC. AXIS
The Losmandy GM 8 Equatorial mount is made of all machined aluminum and stainless steel, black anodized.

The GM 8 has all stainless steel hardware.

One 2.100" diameter needle thrust bearing.

One 2.000" diameter needle thrust bearing.

Two 1.500" diameter needle bearings.

2.812" diameter, 7075 aluminum worm gear, 180 tooth.

The G-8 is dual supported, ball bearing housed ground High Precision Brass Worm

Variable slip clutch, both axes. One knob design.

1.250" diameter aluminum shafts.

Fully locking, unique tangent arm design altitude adjustment, 0-64 degrees, large knob for easy alignment.

Laser engraved latitude scale in 2 degree increments.

Single knob azimuth control, bi-directional +/- 8.5 degrees.

3.500" diameter laser engraved setting circles 6 minute R.A. / 2 degrees DEC. R.A. circle engraved for Northern and Southern Hemisphere.

Porter slip ring design.

160 oz/in stepper motor, 1.0 arc sec. step.

Spit Dovetail saddle-plate design. Accepts "D" series dovetail plates. Dovetail plate drops in and locks allowing for interchaning of any tube assembly, reducing the need for DEC weights.

Removable stainless steel weight shaft w/safety knob.

Losmandy 7 lb counterweight.

Losmandy 11 lb and 21 lb. extra counterweights available.

Through the axis polar scope, works in Northern and Southern hemisphere. Polar scope optional.

Instrument weight capacity 30 lbs.

Losmandy GM 8 Equatorial head weight 21 lbs.

LW TRIPOD
Losmandy All machined aluminum, black anodized.

Tripod height, adjustable from 27" - 43"

Fold-up tripod design for easy transporting.

Losmandy Tripod weight 15 lbs.

Losmandy GM 8 DUAL-AXIS ELECTRONICS
Diamond push button pattern.

R.A. and DEC. reversing switches.

Three guiding rates; 30%, 50% and 2x sidereal rate.

Three setting rates; 4x, 8x, 16x sidereal rate and super fast 32x HST (high speed transfer).

Quartz tracking rates: sidereal, solar, lunar, king.

Periodic Error Correction (PEC).

Programmable DEC. Backlash Compensation (TVC).

Control panel dimmer.

The GM 8 Accepts auto-guider systems.

Northern and Southern Hemisphere operation.

12 volt DC - 500ma power use.

Tiltable control panel for easy access.

Small hand control box for comfortable use.
All heights are to top of tripod. Add 9" @ 34 degrees to center of Dec.-R.A. junction. Add 6" from Dec.-R.A. junction to top of saddle.
Specifications
| | |
| --- | --- |
| Name | Losmandy - GM-8 Equatorial Mount with Gemini Servo System |
| Manufacturer | Losmandy |
| Model | GM-8 GO-II |
| Custom Stock Status | Available - Ships in 3-5 Days |
Reviews
In the Box