Coronado - PST Personal Solar Telescope Double Stacked 0.5 Angstrom
Special Price
$1,567.99
Regular Price
$1,649.99
Free Shipping Available
The Coronado PST 0.5Å Double Stacked Solar Telescope is a superb option for someone new to H-Alpha solar observation. Its optical tube has a 40mm diameter and contains an internal, permanently fixed solar filtering optical system that ensures safety with a secondary external etalon for an even narrower bandpass to obtain solar details that wouldn't otherwise be apparent.
Coronado - PST Personal Solar Telescope Double Stacked 0.5 Angstrom
Coronado 0.5Å Double Stack PST Features
The Coronado PST Double Stack Solar Telescope is a great option for beginners as a first dedicated H-Alpha solar telescope.
The telescope has a 40mm diameter optical tube with a built-in non-removable solar filtering optical system and a secondary external Etalon for a double stack 0.5Å bandpass.
The H-Alpha optics reveal solar prominences, filaments, and other surface details in red hydrogen-alpha light.
The PST is designed for portability and is ideal for travel, such as solar eclipses and solar transits.
Ensures solar safe observation with internal and external optics for viewing the Sun.
The built-in solar viewfinder further ensures safe observation for the human eye.
0.5Å double stack bandpass primarily reveals chromosphere activity but also shows prominence activity, surface granulation, and filaments.
The Coronado PST telescope is lightweight, weighing only 3 lbs, and compact, measuring 15" in length.
Optical tube can be mounted on a tripod or mount using a 0.25"-20 mounting socket.
The PST features Coronado's RICHVIEW tuning system for filter performance control and contrast adjustment.
The built-in Sol Ranger viewfinder helps safely locate the Sun for observation, projecting the Sun's image to the viewing port with an included 18mm Cemax eyepiece.
Perfect H-Alpha Beginner Telescope
The Coronado Double Stack 0.5Å PST Solar Telescope is an excellent choice for a beginner's first dedicated H-Alpha solar telescope. The PST's 40mm diameter optical tube features a completely internal non-removable and safe solar filtering optical system with a secondary Etalon to render a double stack 0.5 angstrom hydrogen-alpha (Ha) bandpass for stunning surface detail. The H-Alpha optical reveal the dynamic, ever-changing prominences at the edge of the Sun as well as filaments and other surface details in amazing detail, all in the brilliant and distinctive red color of hydrogen-alpha light. Especially well-suited for travel thanks to its all-inclusive design, the Coronado Double Stack PST is an ideal grab and go H-Alpha solar telescope for solar eclipses and solar transits.
As a dedicated solar telescope, all the of the necessary internal and external optics are guaranteed for solar safe observation. The front filter installed (typically called an Etalon) along with the removable secondary one restricts bandpass to H-Alpha at 0.5Å, revealing the activity within the solar chromosphere. The built in solar viewfinder further restricts bandpass for safe observation to the human eye.
Solar Prominence Activity at a Glance
While the bandpass of 0.5Å primarily reveals chromosphere activity, it is also sufficient to reveal a certain amount of prominence activity as well including but not limited to surface granualation and filaments.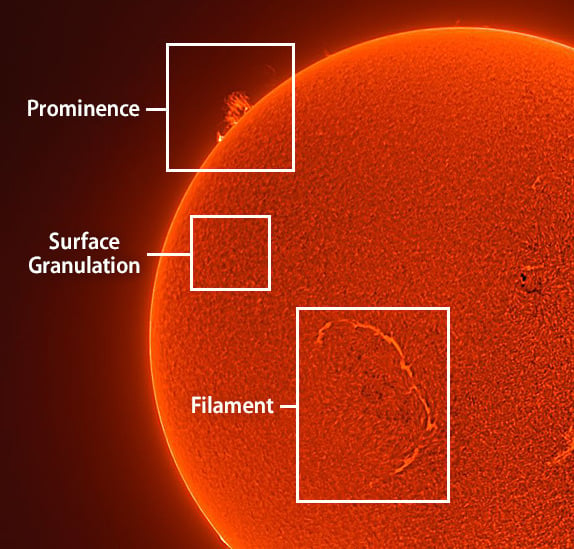 Small, Lightweight and Portable Design
The telescope optical tube weights only 3.2 lbs and is only 17.7" in length, thus it can be taken on the go with ease! It can connect to a tripod or mount using a 0.25"-20 mounting socket.
RICHVIEW Tuning System
Coronado's flagship RICHVIEW tuning system is installed on the PST for control of the filter performance. Contrast can be adjusted if needed since different parts of the Sun may have variance in contrast due to doppler shift, conditions of the observing location and various other factors.
Easily and Safely Find the Sun with the Included Sol Ranger Viewfinder
The built in included Sol Ranger viewfinder allows the user to safely locate the Sun for observation by projecting the Sun disk image to the viewing port next to the included 18mm Cemax eyepiece. This helps ensure the scope is aligned to the Sun at a given point in time.
More Information
UPC
709942995121
Brand
Coronado
Free Shipping
Free Shipping Available
Aperture
40mm
Case Included
No
Focal Length
400mm
Focal Ratio
f/10
Focus Type
Internal
Focal Length of Eyepiece 1
18mm
Magnification of Eyepiece 1
22x
Finderscope Included
Built-In Sol Ranger
Optical Tube Material
Aluminum
Highest Useful Magnification
80x
Lowest Useful Magnification
6x
Limiting Stellar Magnitude
10.7
Optical Tube Length
17.7 in
Optical Tube Weight
3.2 lbs
Warranty
Five year
In The Box

Coronado PST Solar Telescope Optical Tube Assembly
SME-40 Etalon (to create double stack 0.5 Angstrom bandpass)
18mm Cemax Eyepiece
Built in Sol Ranger Viewfinder
Coronado PST Solar Telescope Optical Tube Assembly
SME-40 Etalon (to create double stack 0.5 Angstrom bandpass)
18mm Cemax Eyepiece
Built in Sol Ranger Viewfinder